Tamarisk Coalition Unites Partners in Watershed-Scale Restoration
TechLine Invasive Plant News
Story by Celestine Duncan
Along the Colorado River near Grand Junction, a group of river guides, biologists, concerned citizens, and conservationists gather for an annual float trip to observe riparian restoration efforts. Rusty Lloyd, program director for the Tamarisk Coalition, and others in this group share concerns about the health of the Colorado and other rivers in the West.
"When you float these rivers you see a lot of invasive plants—tamarisk, Russian olive, tree-of-heaven, Russian knapweed, thistles and many others," explains Lloyd. "But it wasn't always this way, and our projects show that if we work together we can restore the health of many of our river systems."
The Tamarisk Coalition was organized as a non-profit in May 2002 to shape landscape-scale solutions for tamarisk. "Our vision is for healthy rivers that are resilient to invasive plant invasion," explains Lloyd. "We don't just focus on removal of tamarisk, Russian olive, and other invasive plants, but look at these actions as one part of a complex restoration program that moves us toward achieving our vision."
Since its organization, the Tamarisk Coalition has grown from a small group of committed individuals to more than 148 partners and funders ranging from private individuals, non-profits, and local businesses to large corporations and foundations. Land managers and youth from more than 15 states have been educated through various training and outreach events. In addition, the Coalition provides capacity support, fundraising assistance, technical expertise, grant writing, planning, monitoring, and project management to restoration partnerships in Colorado, Utah, Nevada, New Mexico and Arizona.
The Coalition was a key supporter in the passage of the 2006 Salt Cedar and Russian Olive Demonstration and Control Act. Although the Act remains unfunded, it increased national awareness and public concern that paved the way for the Coalition to support important scientific assessments of tamarisk and Russian olive impacts and potential solutions for riparian restoration.
Increasing collaboration among partners and providing technical assistance, public education and outreach are the key focus areas of the Tamarisk Coalition. Invasive plant impacts are addressed on a watershed scale rather than the more conventional site-by-site approach to riparian restoration. Programs range from providing direct assistance to individual land managers, to broad-based educational programs and support to multi-stakeholder groups tackling riparian restoration.
"Local and community-based organizations that can conduct, coordinate, and sustain riparian restoration efforts are our focus since they have the commitment toward long-term management," says Lloyd. An example of one of the projects is the Dolores River Restoration Partnership. This and other successful projects have helped protect water resources, facilitate jobs for local contractors and youth, create recreational opportunities, and revitalize local communities by engaging volunteers and reinvesting partnership dollars back into the community.
The Coalition also supports long-term monitoring and data collection on management and restoration projects and tracks the movement of the tamarisk beetle (Diorhabda sp.). The Tamarisk Beetle Education and Mapping Program educates the public about potential ecosystem impacts from the beetle and compiles data from applied research so that land managers can implement new approaches for restoration in areas affected by the biological control agent.
"We don't release the beetles," explains Lloyd, "But we do provide information concerning the tamarisk beetle to land managers to help with decision making."
The Tamarisk Coalition plays an important role in enhancing riparian areas, increasing biodiversity, and strengthening economies for the benefit of western communities. "These rivers are the lifeblood of our community. They're a key economic driver for agricultural production and recreation but are also a critical resource for fish and wildlife in our region. Invasive plants affect a lot of the things we love about our river — the water it produces, the wildlife we like to hunt, fish and watch, and much of the boating and recreation. Everyone has a stake in protecting our water and making these rivers as healthy as possible," says Lloyd.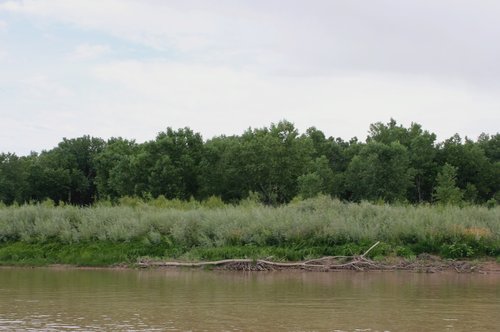 RESTORED AREAS ALONG THE COLORADO RIVER ARE A COMPLEX OF NATIVE COTTONWOOD, WILLOW AND DESIRABLE GRASSES AND SHRUBS (ABOVE) COMPARED TO SITES THAT ARE DOMINATED BY TAMARISK AND RUSSIAN OLIVE (BELOW).    
RiversEdge West's
mission is to advance the restoration of riparian lands through collaboration, education, and technical assistance.