Grant to Restore River Habitat and Connect Community Received from Xcel Energy
Restoring River Habitat and Connecting Community
RiversEdge West improves riverside habitat and educates students thanks to a $20,000 grant from the Xcel Energy Foundation
June 18, 2020
Mesa and Delta County, CO – RiversEdge West (REW), a Grand Junction-based nonprofit focused on restoring riverside lands, is celebrating a $20,000 grant that was awarded from the Xcel Energy Foundation in June of 2020. Funds from the foundation will support REW's Desert Rivers Collaborative (DRC) and riparian (riverside) education program. 
The DRC was formed by REW in 2012 to provide a coordinated platform for land managers and landowners to conduct habitat restoration for the benefit of river health and local communities. The DRC focuses on the Colorado River in the Grand Valley as well as on the lower Gunnison River in Mesa and Delta Counties. REW is also a local leader for educating youth and adults about the importance of healthy riparian habitats. From visiting classrooms throughout District 51 and hosting field trips, to their Annual Raft the River float trip and dinner, REW provides a multitude of opportunities for continued learning for all age groups.
"Both the Desert Rivers Collaborative and our River Education Program rely on support from community and corporate partners such as the Xcel Energy Foundation," said Cara Kukuraitis, Outreach and Education Coordinator for RiversEdge West. "Thanks to Xcel Energy, we'll be able to connect over 1,300 students this year with rivers and inspire them to care for these places for years to come. These funds will also allow us to coordinate restoration work that will improve riverside habitat throughout the Grand Valley."
Riparian lands provide integral ecosystem services. Unfortunately, many western rivers have been severely degraded by the introduction of invasive plant species such as tamarisk and Russian olive. This degradation has resulted in reduced water quality, increased wildfires, altered flow regimes, impaired ecological systems and habitats, and lessened recreational opportunities.
To combat these impacts, REW works with land managers to remove invasive plants and conduct targeted revegetation with native plants. Managing invasive riparian plant species improves stream channel function which, in turn, can lead to improved habitat. Revegetation with native plants that are drought-resilient and locally-stocked are less likely to serve as wildfire fuel and will provide critical habitat for wildlife.
Ongoing support from the Xcel Energy Foundation for the DRC's on-the-ground work and community education program is instrumental in allowing REW to advance the restoration and protection of this vital community resource.
"We recognize that our customers and communities rely on us to produce energy responsibly and conserve natural resources, which is why we do all that we can in our operations to achieve this," said Liz Gardner, Social Investment Representative with Xcel Energy. "We are also proud to support nonprofit organizations across the state, including RiversEdge West, that are providing hands-on environmental education experiences that foster an ethic of stewardship and conservation. We know, that together, we can accomplish remarkable things in Mesa and Delta counties."
To date, approximately 1,565 acres of riparian restoration has been completed in Mesa and Delta Counties, with more work planned for the future. In 2020/2021, the group will focus on:
Developing and implementing monitoring protocols for the DRC for land managers and private landowners to utilize in order to gauge restoration effectiveness and promote informed decision making

Continued restoration work and invasive plant control measures on areas previously impacted by wildfire including Bureau of Reclamation's Grand Junction Wildlife Area at Cameo and Colorado Parks and Wildlife properties.

Implementing strategic invasive species removal and planting native species at four sites from Palisade to Fruita to improve native fish and bird habitats;

Strategically reducing invasive plant infestations to reduce fire risks in urban areas while collaborating with the Two Rivers Wildfire Council to address current and future needs in regards to wildfire prevention/mitigation, and;

Connecting over 1,300 Mesa County students through REW's river education program.
---
RiversEdge West is a Grand Junction-based 501 (c) 3 nonprofit dedicated to the restoration of ecosystems for the benefit of both fish and wildlife as well as the economic, social, and cultural well-being of communities in the American West.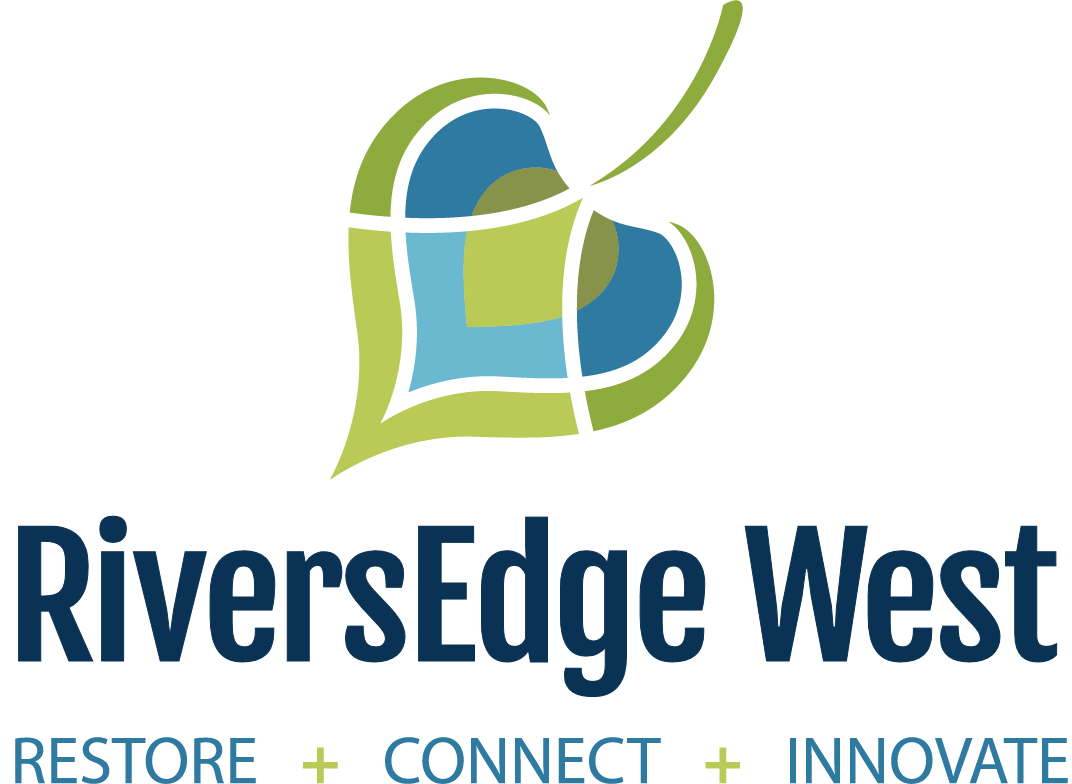 Xcel Energy is a major U.S. electricity and natural gas company operating in eight Western and Midwestern states. The company is committed to providing cost-effective, clean, responsible energy delivered with the highest standards for safety, reliability, and responsiveness. Xcel Energy supports communities in four important focus areas: STEM education; environmental stewardship; economic sustainability; and access to arts and culture.
RiversEdge West's
mission is to advance the restoration of riparian lands through collaboration, education, and technical assistance.