Dolores River Restoration Partnership Wins Statewide Award
Dolores River Restoration Partnership Wins Statewide Award
Colorado Collaboration Award Recognizes River Restoration Partnership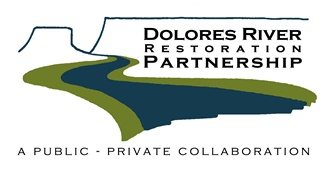 Daniel Oppenheimer, DRRP Coordinator
Tamarisk Coalition
(970) 256 7400
SEPTEMBER 23, 2014 – The Dolores River flows for more than 200 miles from southwestern Colorado to eastern Utah, where it joins the Colorado River. The river corridor has long been under threat from invasive non-native plants such as tamarisk, which displaces native plants, damages wildlife habitat, impairs recreational opportunities, and increases wildfire risks.
Since 2009, a unique partnership has been hard at work fighting the spread of invasive plants and restoring the Dolores River watershed. The Dolores River Restoration Partnership (DRRP) is a coalition of federal land management agencies, county and state governments, landowners, nonprofits, students, conservation corps, volunteers, and other stakeholders. Their goal: a Dolores River system that is ecologically, socially, and economically sustainable.  To learn more about the DRRP, go to:
http://ocs.fortlewis.edu/drrp/
.
"Having restoration goals that not only focus on ecology, but investing in youth and local economies, has really been important for engaging a wide array of local and regional partners. These partners are and will continue to be the key stewards protecting our shared investment in restoring the Dolores River," said Daniel Oppenheimer, DRRP Coordinator at the Tamarisk Coalition, one of the partner organizations. 
As invasive plants do not adhere to political boundaries, the DRRP has developed collaborative approaches to working across boundaries. The DRRP works across five counties, four Bureau of Land Management field offices, and with 20 volunteering private landowners to control a suite of invasive plants while also adding native grasses, shrubs, and trees back into the Dolores River corridor and its tributaries. To date, the partnership has treated over 1,100 acres of tamarisk and Russian knapweed and planted over 400 acres of native plants along the Dolores River to enhance wildlife habitat, livestock forage, and river-side campsites. 
In addition to improving the river corridor, the DRRP is also committed to supporting the next generation of stewards. The Tamarisk Coalition, The Nature Conservancy, and Bureau of Land Management have worked with Southwest Conservation Corps out of Durango, Western Colorado Conservation Corps in Grand Junction, and Canyon Country Youth Corps in Monticello to hire and train more than 200 youth and young adults to implement and monitor much of the restoration work. 
Now the DRRP has been selected as the winner of the 2014 Colorado Collaboration Award, a $50,000 prize which recognizes excellence and innovation in nonprofit partnerships. Peter Mueller, with The Nature Conservancy, notes, "The Colorado Collaboration Award comes at a pivotal time for the DRRP.  While our on-the-ground success stems from thoughtful planning and a committed partnership, this financial support and recognition will spur us on to fulfill our larger goal of improving public-private collaborations that benefit critical lands that will serve nature and people for generations to come." 
The partnership intends to use this award money to leverage additional contributions and establish a fund that will support restoration work and long-term stewardship of the Dolores River.  
The Colorado Collaboration Award is a prize offered each year by a group of foundations and corporate funders to an outstanding nonprofit collaboration. DRRP representatives will be present to accept the award at the Colorado Nonprofit Association's Fall Conference & Exhibition in Denver on October 6.
###
ABOUT THE DOLORES RIVER RESTORATION PARTNERSHIP
The Dolores River Restoration Partnership (DRRP) is a public-private collaborative of partnering individuals, organizations, and agencies working to restore the riparian corridor of the Dolores River, which flows from the San Juan Mountains of Southwestern Colorado to eastern Utah, where it merges with the Colorado River. Since 2009, the DRRP has worked to remove invasive plants whose extensive growth has displaced native plant communities, impaired wildlife habitat and forage, hindered recreational opportunities, and increased risks associated with wildfire. The DRRP works in Dolores, San Miguel, Montrose, and Mesa Counties in Colorado as well as Grand County, Utah. 
RiversEdge West's
mission is to advance the restoration of riparian lands through collaboration, education, and technical assistance.