Projects & Monitoring
Projects
The Desert Rivers Collaborative is currently undertaking a number of restoration projects along the Colorado River and tributaries in the Grand Valley; click on the project titles below to learn more about each site.
Recently, RiversEdge West, with the help of numerous partners, cataloged tamarisk and Russian olive removal and riparian restoration projects that have been undertaken in the Grand Valley since the late 1990s. This interactive map provides an overview of those projects and denotes where future projects (both funded and unfunded) are planned. This
map
also displays the sites listed above. Zoom in and click on locations to learn more about each site. Please note that many sites denoted as treated may require additional follow-up work, including secondary weed spraying or revegetation. 
Vegetation Monitoring
In order to insure that restoration activities are achieving project goals, DRC participants complete vegetation monitoring of their project sites. The protocols utilized by many project partners can be found at the
Resource Center
. Information garnered from yearly monitoring helps to guide annual treatments, including secondary weed treatment or active revegetation.
If you have any questions about undertaking monitoring for your projects, don't hesitate to contact RiversEdge West for assistance. 
Geomorphic Monitoring
RiversEdge West has also partnered with Colorado Mesa University (CMU), through the direction of Dr. Gigi Richard, Professor of Geology, to study how tamarisk removal may impact riverbank stability along a 51-km reach of the Colorado River. As tamarisk is known for its ability to hold banks in place, the question of how its removal could impact bank erosion has been on many people's minds. Bank erosion following high flows in 2011 in areas where vegetation removal occurred suggests that recent tamarisk removal efforts could contribute to increased bank erosion and increased channel mobility.
This study utilized 1) GIS analysis of repeat aerial photos of the channel and side channels in areas where removal has been accomplished, and 2) field surveying of cross sections in two reaches of the Colorado River where tamarisk removal is planned, with the intention of continued annual monitoring to measure cross-section geometry changes. 
Field Monitoring
From 2013-2015, initial field surveying of the river channel was accomplished at three field sites, identified for future tamarisk and Russian olive removal: Franklin Island State Wildlife Area (SWA), Colorado River SWA, and Walter Walter SWA. A total of 21 cross sections were surveyed at the three sites to map the pre-removal channel bathymetry. Topographic survey of the riparian zones will be accomplished following removal of invasive riparian vegetation. The removal sites will be resurveyed following the next near-bankfull streamflow. 
GIS Analysis
GIS analysis of the 51-km reach, including the main channel and side channels, will assess channel mobility in removal and non-removal areas via measurement of changes in the non-vegetated active channel from pre-removal to post-removal aerial photos. Channel change analysis has been completed for both the north bank of the channel between 2007 and 2012. Areas of significant channel change were identified and classified as removal areas, non-removal areas, or adjacent to removal areas based on GIS data provided by RiversEdge West.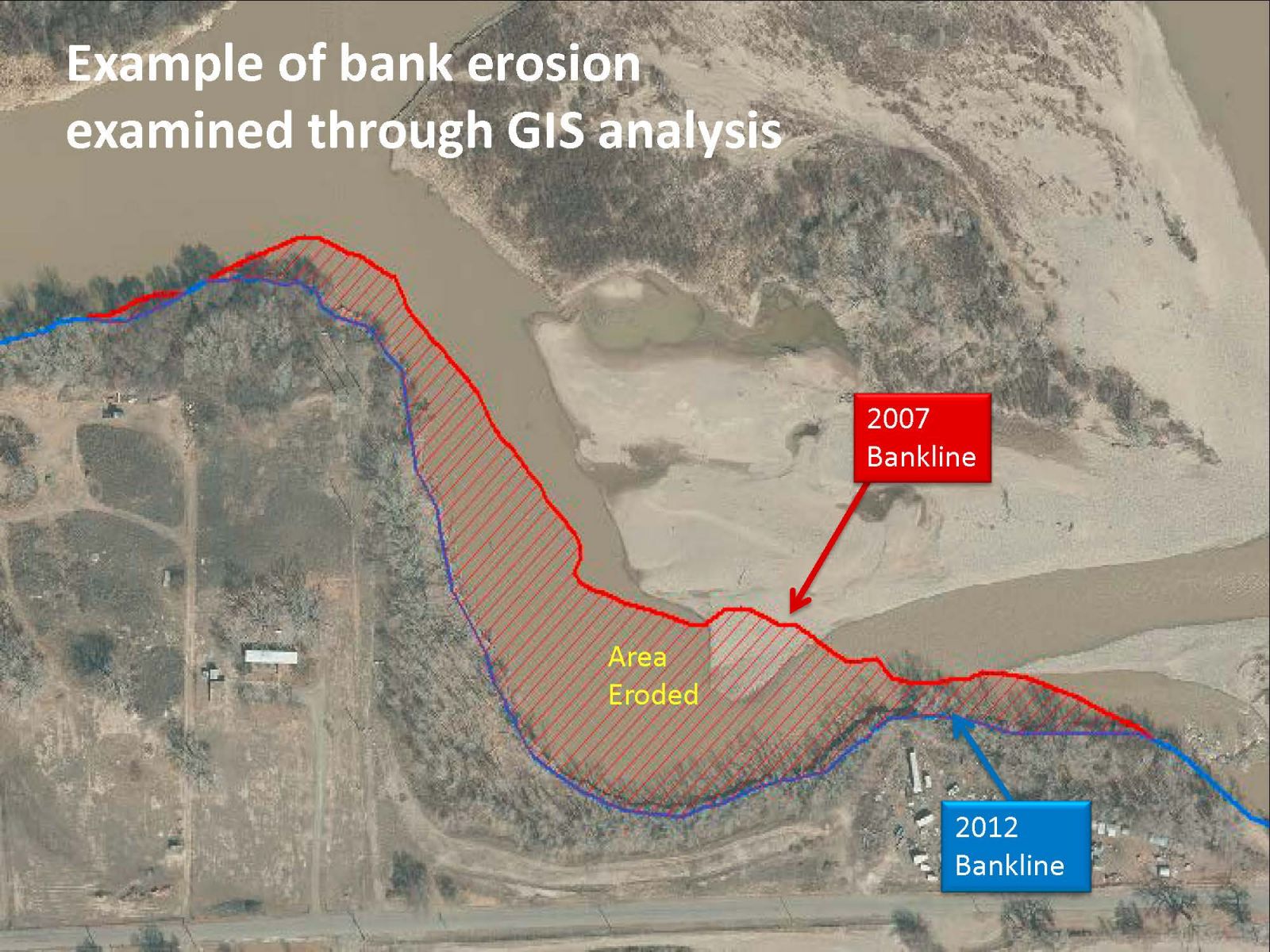 Initial results do not indicate significant difference in sizes of eroded areas in removal or non-removal sites, however, eroded sites with vegetation removal exhibited slightly greater bank erosion measured as the width of eroded area. 
Please check out a
poster
 created by Dr. Gigi Richard that summarizes the findings of this study to date. Additional monitoring and analysis will be on-going. Funding for this project has been provided by Colorado Water Conservation Board and Xcel Energy Foundation. 
RiversEdge West's
mission is to advance the restoration of riparian lands through collaboration, education, and technical assistance.