Watson Island/Las Colonias
Since settlement of the Grand Valley by pioneers in the late 1800s the areas known as Watson Island and Las Colonias have been utilized for a number of
purposes
, ranging from flower gardening to spent uranium storage. In the 1950s, Watson Island was turned into a salvage yard, serving as a dumping grounds for old vehicles, tires, mobile homes, and other refuse. In the early 1980s the Grand Junction Lions Club, looking for a way to instill pride into the community, provided the City of Grand Junction with $100,000 to purchase Watson Island. The Lions Club required the City to match this funding - and they also wanted to see the area cleaned up and protected as a city park.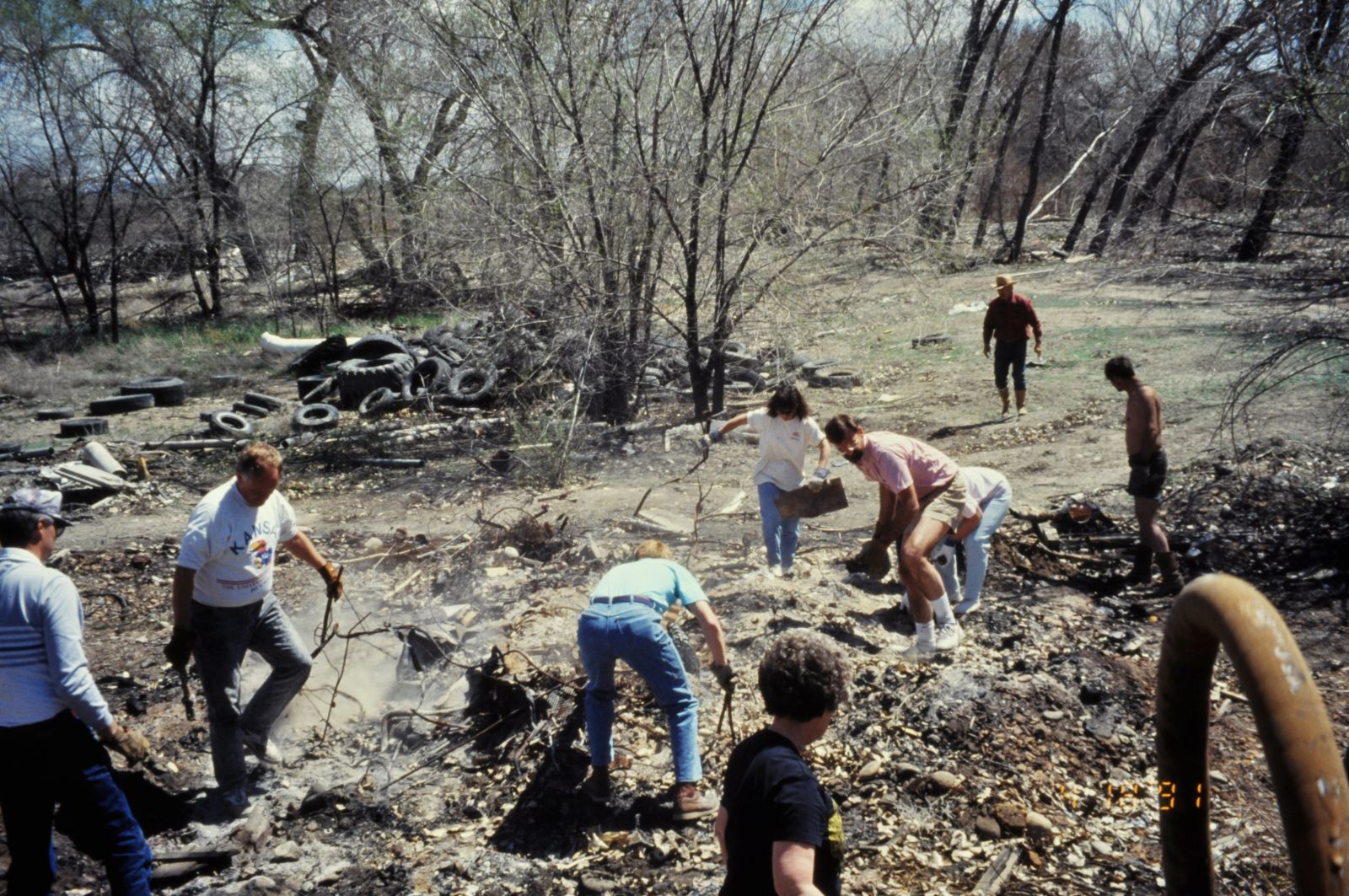 Over the last twenty years, Watson Island and Las Colonias have been transformed from tamarisk infested dumping grounds to an area that boasts river access, the Colorado Riverfront Trail, the Western Colorado Botanical Gardens, and an 18-hole disc golf course. The area is also currently under developed as a new City of Grand Junction regional park. Restoration of the area's riparian habitat has been a goal for Watson Island and Las Colonias since its clean up. In 2008, the City of Grand Junction and the Tamarisk Coalition began leading efforts to enhance the habitat and recreational values of the Watson Island and Las Colonias which had long been negatively impacted by tamarisk, Russian olive, and other invasive plants. Over the years, several woody invasives removal projects, secondary weed treatments, and revegetation efforts have been completed on the island complex. The goal of restoration efforts is to replace non-native plants with native riverside vegetation for the benefits of protecting wetlands, creating a riparian buffer, reducing fire risk, and diversifying habitat components. While the area is much improved, additional weed control work and restoration with native plant species remains a priority for project partners.
Over the years, funders have included: City of Grand Junction, Chevron, CO Dept of Public Health & Environment, CO National Guard, CO Riverfront Foundation, CO State Forest Service, CO Water Conservation Board, Grand Junction Lion's Club, Junior Service League, National Fish & Wildlife Foundation, REI, Stoller Corp, US Fish & Wildlife Service and Xcel Energy Foundation.Today, visitors can enjoy this area that has become a central recreation destination of downtown Grand Junction. 
On the northwestern portion of the Watson Island/Las Colonias Complex, Tamarisk Coalition partnered with City of Grand Junction and Western Colorado Conservation Corps (WCCC) to install a native plant pollinator garden, providing a sanctuary to pollinators and community members alike. Over 1300 plants, encompassing 50 different species, were planted by the WCCC in the fall of 2013. In 2015, the City expanded upon this garden with additional native plants, and a gravel walkway was installed at the site, with the help of the WCCC. Please visit the
Pollinator Garden page
to learn more!
RiversEdge West's
mission is to advance the restoration of riparian lands through collaboration, education, and technical assistance.