Dolores River - Low Water, Monsoons, and Restoration
A Note from Rica, RiversEdge West's former Restoration Coordinator for the Desert Rivers Collaborative and the Dolores River Restoration Partnership
---
News about water shortages across the West has consumed the media this year - Lake Powell is hovering at historically low levels, heat waves are supercharging evaporation, and unprecedented mandatory cuts to water use are occurring in the Lower Colorado River Basin. River flows are the most important driver to ecological health in river systems, therefore, it is important to understand current conditions, long-term trends, and how the myriad demand needs fit in with a drastically reduced supply. 
The Dolores River, one of the watersheds we work to help restore here at RiversEdge West, has been no exception to these hot and dry conditions this year; seeing the lowest flows in the watershed since 2002. Given the remote location of the watershed and the complexity of the water management structure, I wanted to provide a summary of the work the Dolores River Restoration Partnership does, an update of the current flows and conditions of the Dolores River, and a brief background into how the river is managed.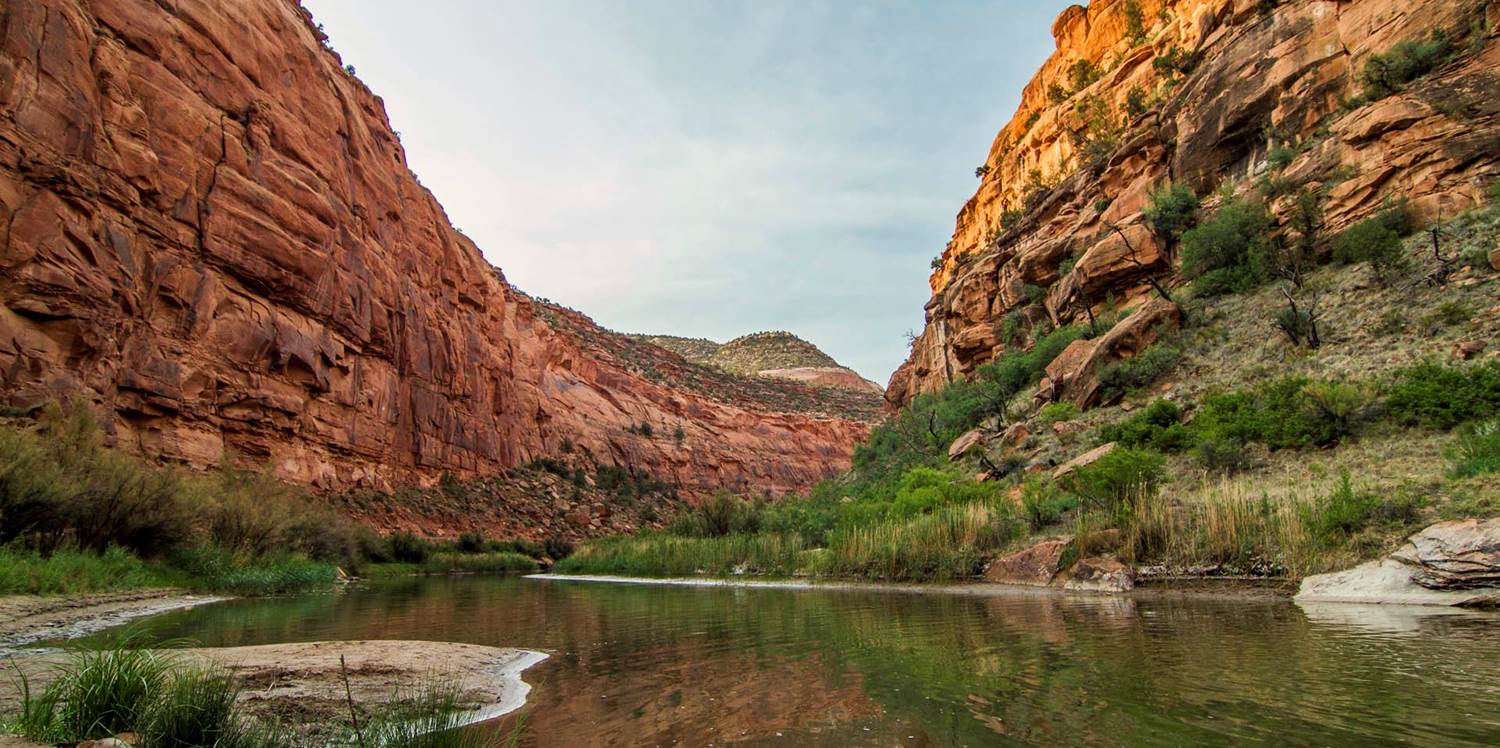 The Dolores River
Restoring an Iconic River
The Dolores River flows 241 miles from its headwaters in the San Juan Mountains in southern Colorado to the Colorado River in northeast Utah east of Moab. The river flows through distinctive landscapes ranging from magnificent ponderosa pine-lined banks, iconic red rock canyons, and wide meandering floodplains. The river is home to abundant birds (check out some surveys done by the Rocky Mountain Bird Observatory!), wildlife and fish species including the roundtail chub, bluehead sucker, and flannelmouth sucker. When there are sufficient flows, river-runners flock to the river for what has been called one of the best multi-day river trips in the Country.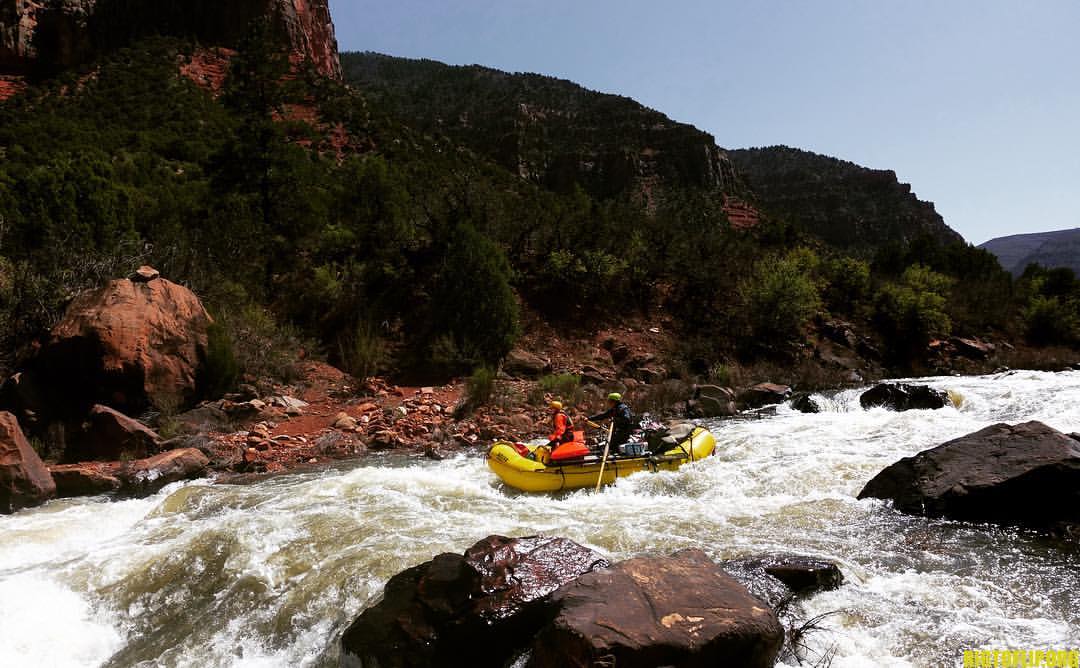 Boaters face an oncoming rapid on the Dolores River
It Starts with a Partnership
The Dolores River Restoration Partnership (DRRP) was founded by RiversEdge West (then Tamarisk Coalition), The Nature Conservancy, The Bureau of Land Management (BLM), Southwest Conservation Corps, and others in 2009, with the common goal of addressing the expansive infestation of tamarisk along the entire corridor and helping the river become more resilient and biodiverse.
In the past 11 years, the DRRP has removed 1,910 acres of tamarisk, or about 70% of the initially mapped infestations along the entire river. We also conduct active revegetation, implement comprehensive rapid monitoring, ensure restoration work is maintained, and work with the public and other stakeholder groups to engage in other projects.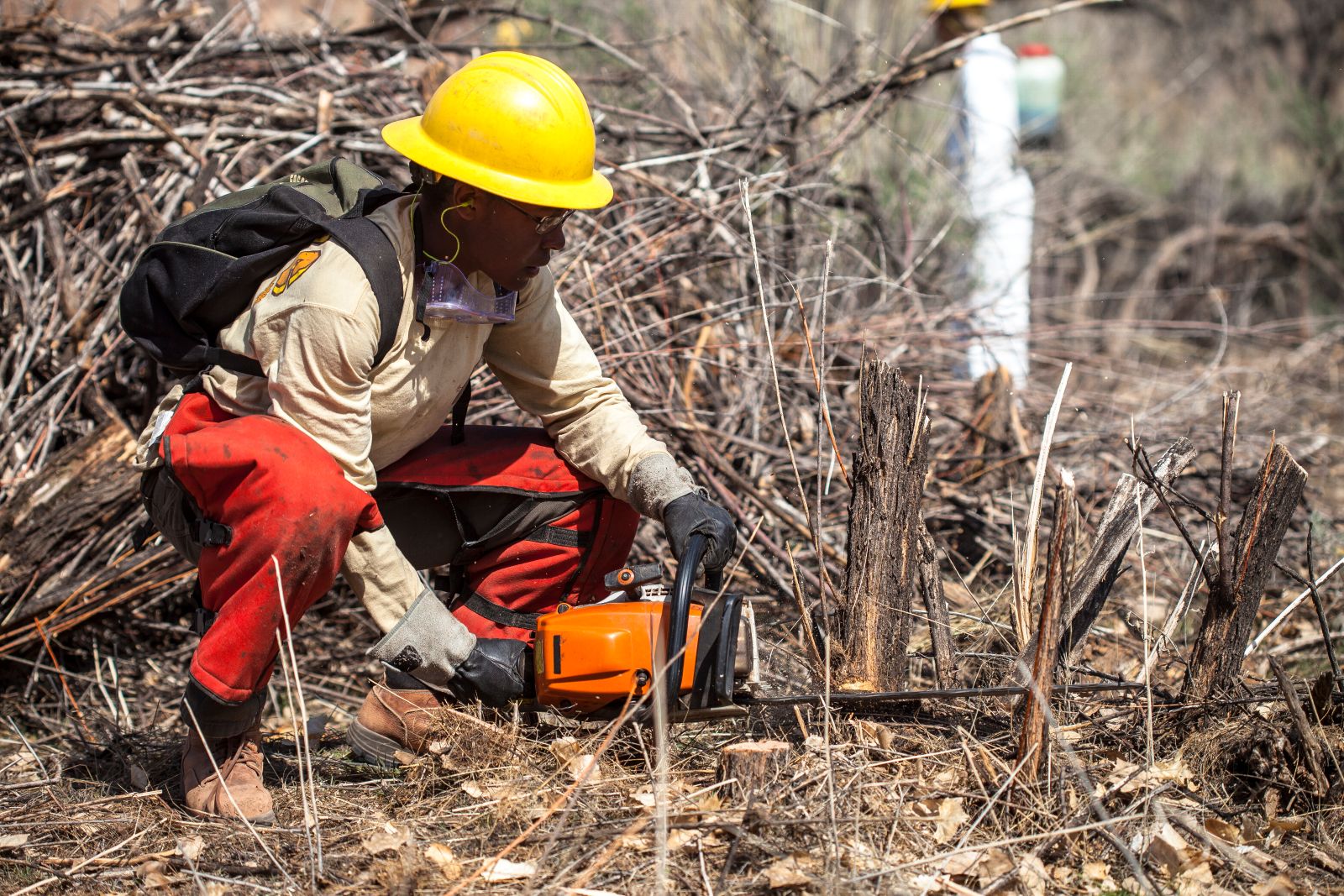 A crew member with the Southwest Conservation Corps cuts a tamarisk stump as part of restoration efforts along the Dolores River.
River Rules
McPhee Dam and Reservoir, built in 1984 just outside Dolores, Colorado, regulates the river; trapping snow runoff in the spring and supplementing flows downstream in the summer. The majority of the water is used for agriculture outside of the Dolores River watershed in Montezuma County, meaning that once water is diverted from the reservoir it does not return to the Dolores River watershed. Water is delivered via canals and ditches to agricultural lands outside of Cortez, to the Ute Mountain Ute Reservation in Towaoc, and to farmers in the Dove Creek area. The associated water delivery infrastructure (collectively called the Dolores Project) is managed by the Dolores Water Conservancy District and the Bureau of Reclamation. 
The water is allocated to what can be categorized into five user groups. First, with the largest quantity of water rights, is Montezuma Valley Irrigation Company who holds the most senior water rights on the river from the late 1800s. They are an independent company that delivers water to users in Montezuma County, primarily for agriculture. Dolores Water Conservancy District and the Bureau of Reclamation are not able to decide how Montezuma Valley Irrigation Company uses their water and what kind of cuts they take each year. Second, is the full-service farmers around Dove Creek, an area celebrated for their dryland beans. Third, is the Ute Mountain Farm and Ranch Enterprise; a state-of-the-art facility on the Ute Mountain Ute Reservation that grows corn, alfalfa, and a host of other crops, while employing an impressive number of locals. Fourth, is the supply of municipal needs in Dolores, Dove Creek, and Cortez - overall, this is a small amount of water and a priority for delivery. Finally, is the water allocated downstream for fish. This water is referred to as the "fish-pool" and is an amount that was deemed appropriate to maintain the downstream trout fishery.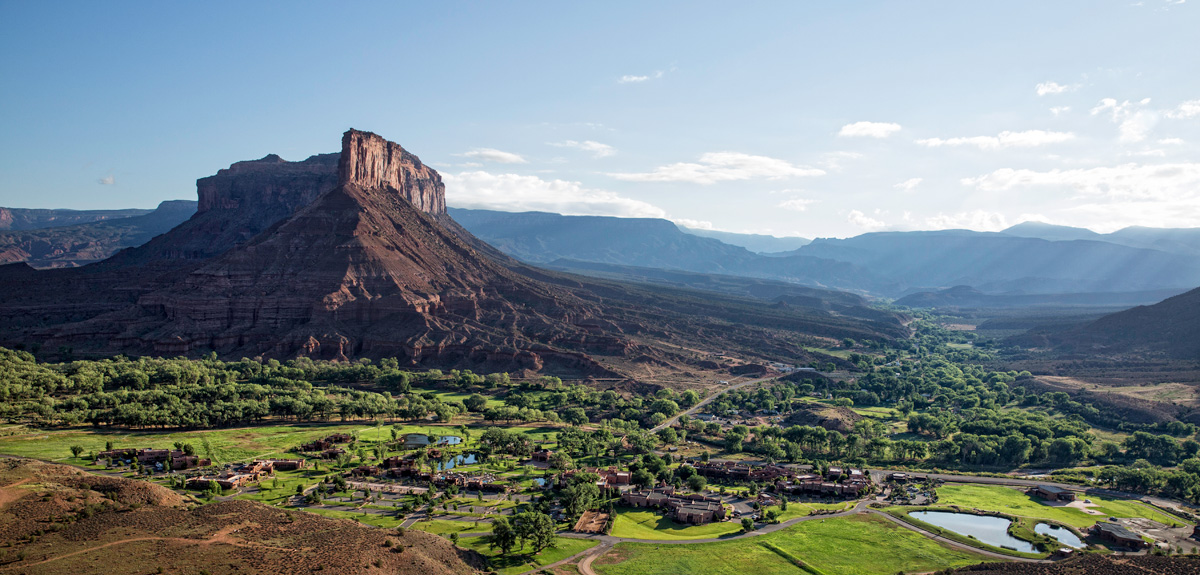 During years like 2018, 2020, and 2021, the snowpack has been insufficient to fill the reservoir and not enough water has been available to fulfill all of the water rights. Shortages are based on the prior appropriation doctrine (if you don't use it, you lose it and first in time, first in right). In the case of the Dolores River, Montezuma Valley Irrigation Company has the most senior rights and receives some of their water before the full-service farmers, Ute Mountain Ute Enterprise, and the fish pool. The latter three categories share in shortages - meaning that when only 10% of water is available they all receive 10% of their allocation. In other words, there is no static amount of water that has to be released downstream each given year for fish or recreation, so it is really dependent on how much snowpack there is and how full McPhee Reservoir is. 
This year, full-service farmers, Ute Mountain Ute Farm and Ranch Enterprise, and the fish pool all took the worst shortages in history of around 90-95%. Non-Montezuma Valley Irrigation Company farmers only received 5% of the water that they normally do, which is challenging for the local community. What that means for the river downstream, is that no more than 8 cubic feet-per-second (cfs) was released at any given time (the historical pre-dam peak was 2,500 cfs) and sometimes it was as low as .5 cfs. As you might imagine, it is not looking like a good year for fish - Colorado Parks and Wildlife have said there may be above 90% trout mortality and native fish may not do well either.
For most of the year, the river above the confluence with the San Miguel River (the largest tributary to the Dolores that provides relatively consistent flows for the last 100 miles or so) appeared to be almost dry. Stagnant pools and creeping currents appeared to hold some tiny fish and crawdads, but it is hard to picture a thriving riparian ecosystem without any water.
An almost-dry Dolores River 
A Flood of Hope
The DRRP utilizes an adaptive management approach to riparian restoration techniques; therefore we're able to change what we're doing based on new information or variable environmental conditions. Since we are composed of so many organizations, we're able to have a high-level of communication, access to information, and frequently have people out in the field observing what is happening. 
Considering that we rely on high spring peak flows to rejuvenate groundwater tables and provide seasonal moisture, I was nervous about many of our sites where we have planted trees and completed revegetation in the past few years. In June, I trained our vegetation monitoring crews and we stopped by one of these sites where we planted trees in 2019. Despite the historically low flows, I was pleasantly surprised to find almost ten trees with new growth and full, green leaves. We clipped wild licorice and non-native sweet clover from around the trees to give them more space and dumped a bucket of water at their bases - sometimes nature is resilient!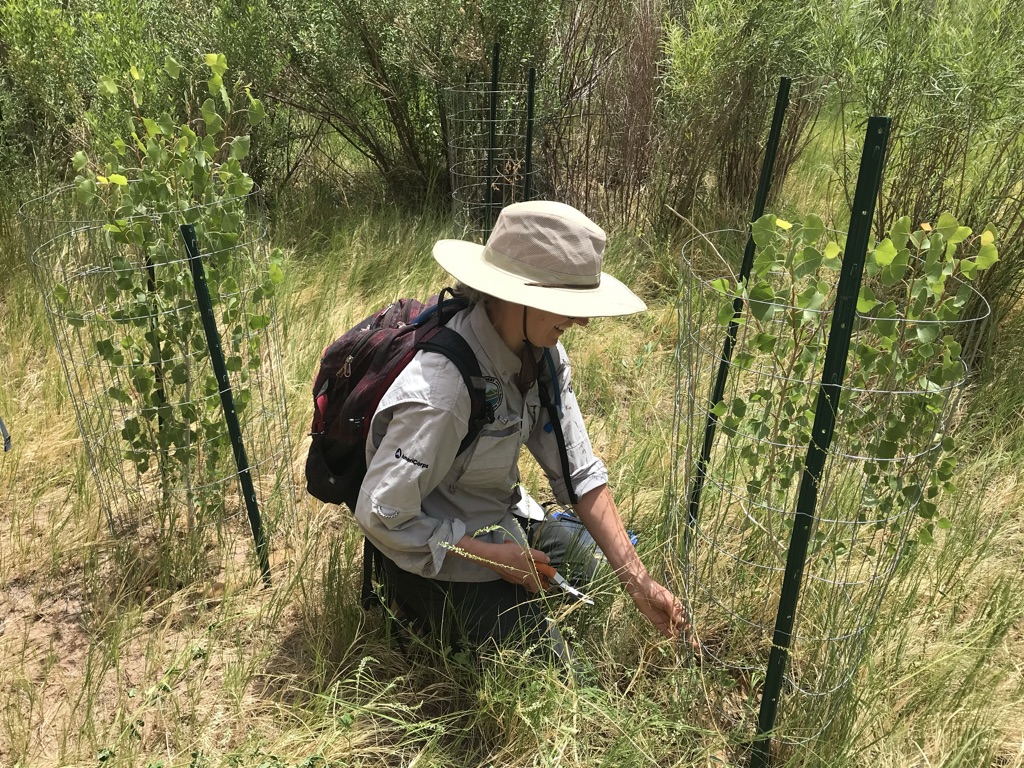 Monitoring crews clip wild licorice and non-native sweet clover from around the native cottonwood trees to give them more space.
A small reprieve came in mid-July when the southwest started seeing monsoonal rains swell and roar down bone-dry creeks and washes. When I was driving back from a site visit in Slickrock where we are setting up a five-year geomorphological monitoring program with Fort Lewis College, Colorado Mesa University, Colorado Parks and Wildlife, and others; I was lucky to witness Salt Creek (which is almost always dry), come to life with a flash flood; the earth vibrating as I could feel large boulders shifting under the powerful current, and full-size trees fly by in the fastest part of the channel.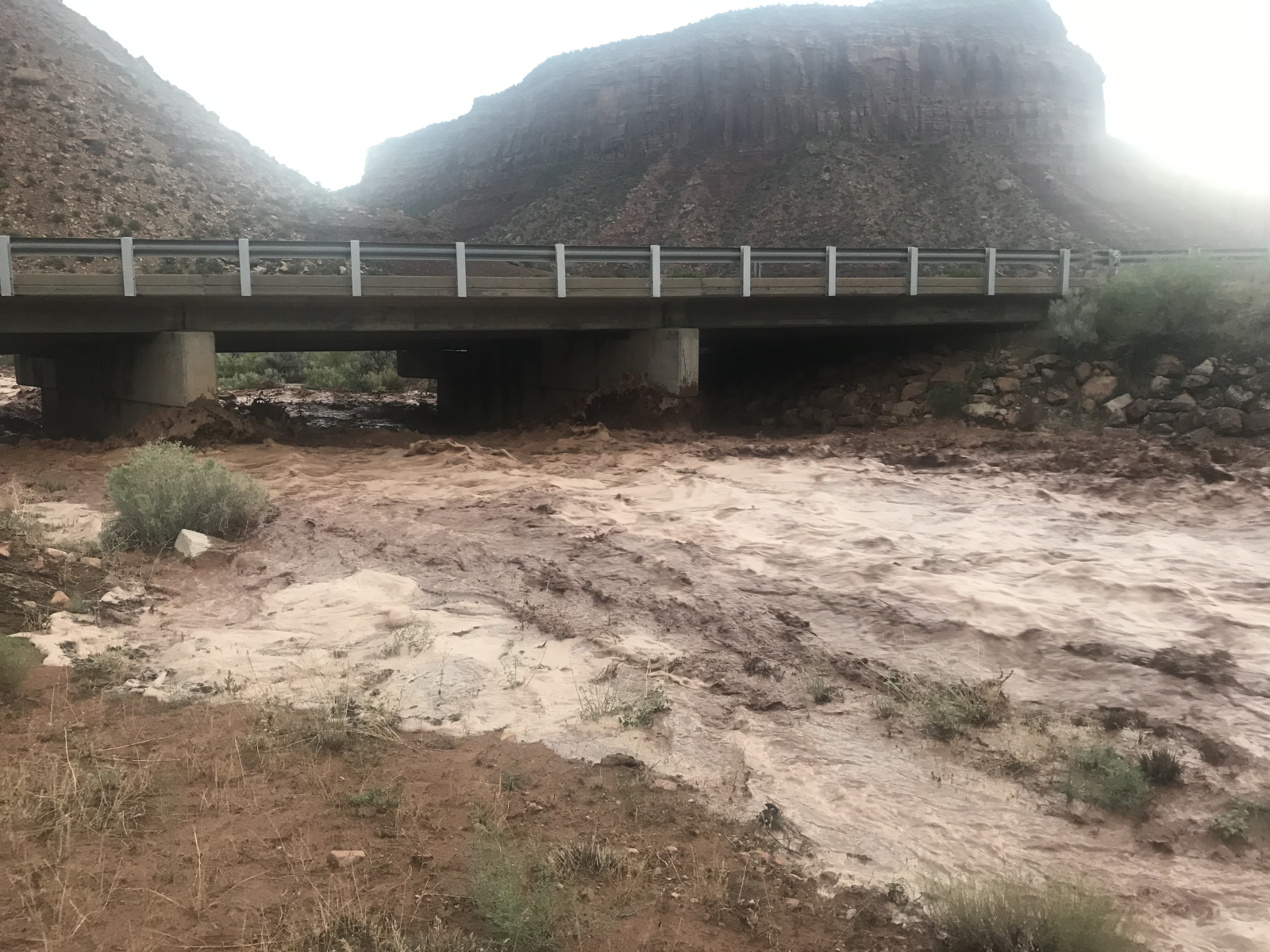 Salt Creek after heavy rain in mid-July of 2021 
Flows from Salt Creek and many other usually-dry tributaries brought the flows in the Dolores River up substantially, in some cases over 1,000 cfs! The water, caked with sediment and pungent with organic material, was pulling wood and mud downriver and eventually into the Colorado River. However, much of this flood water will seep into the groundwater table and replenish these dwindling underground reservoirs, helping support the whole river for the next season. 
This year was a reminder of how variable desert rivers are, and how we need to keep working together to both adapt and mitigate for future dry years. Climate change is impacting what we can expect from our rivers, so it is important to better understand these changes and how we can adapt and mitigate our restoration efforts. It takes long-term stewardship, monitoring, and restoration to support these places, and we're excited to be a part of this process on the Dolores River.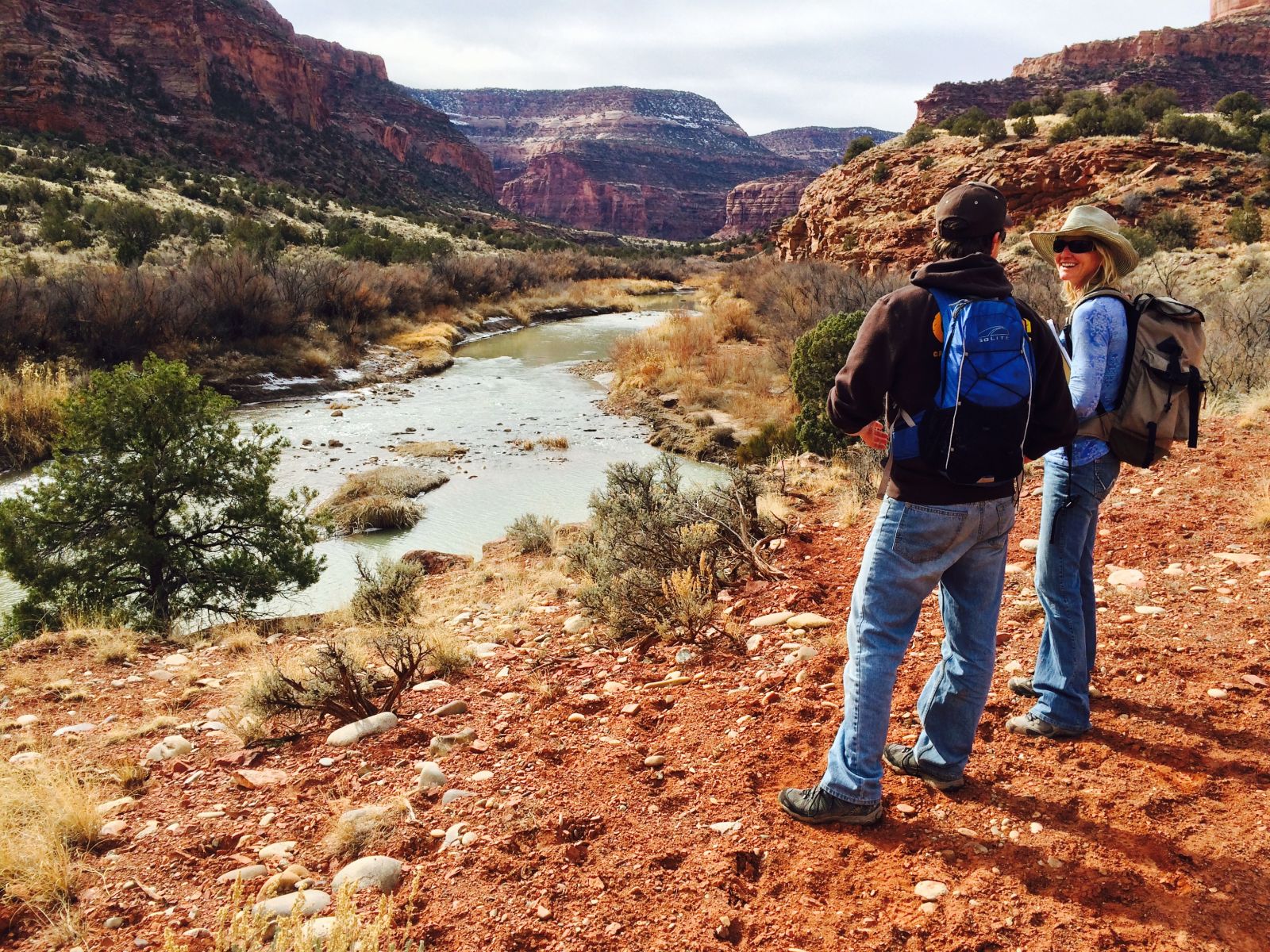 Learn more about the Dolores River Restoration Partnership or make a contribution to support this work.

Other News